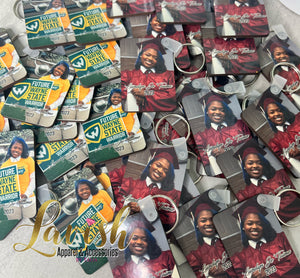 Double sided Keychains
Introducing our exquisite custom keychains, meticulously crafted from high-quality MDF to bring a touch of elegance to your everyday essentials. These double-sided keychains are not just functional, but also a delightful way to showcase your personal style. Measuring approximately 1.5 x 2.36 inches, they strike the perfect balance between compactness and visual impact.
Double-sided printing ensures that your chosen design remains vibrant and eye-catching from any angle.
Elevate your keychain game with a personalized accessory that reflects your individuality and makes a statement. Whether it's a gift for a loved one or a treat for yourself, our beautiful custom keychains are the ideal way to carry memories, inspiration, and style wherever you go.