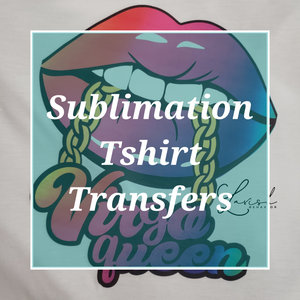 Sublimation Transfers
You design and we print.  Transfers are printed on an 13x19 size sheet. Please indicate the size you want your image printed, height by width, in the note to seller field. You can get 2-3 full size images per sheet depending on the size of the image. We will let you know how many for sure.
Sublimation transfers are for 100% polyester or poly cotton blends where the polyester percentage is at least 60%. The higher the polyester count the more vibrant the image will be after being pressed. Also best on white or light polyester fabrics. These transfers are not for black or dark colored substrates. 
You must use a heat press with these transfers
3 business day turnaround time
Please upload "Print ready" images.
Pdf, png or jpeg files
Instructions for pressing:
1) THREAD the shirt or textile onto the lower platen of the press. Failure to thread the textile will cause the image to sublimate onto the back of the textile. If you have a press that doesn't allow you to thread then add a piece of craft paper or tissue paper inside the shirt to keep the dye from bleeding through the back.

2) Align the printed image to the garment/product with the printed image facing the garment/product. You can tape the transfer to the garment/product for additional stability. Use heat resistant tape only. Link to heat tape on amazon https://amzn.to/3qfLrdj

3) Cover the entire shirt and transfer with Kraft paper,  copy paper or a few sheets of tissue paper ( I use about 5 sheets of tissue paper). Use sheets of paper each time as the ink bleeds.

4) Press at 380°F / 193°C with medium to heavy 60-70 seconds. 

5) Open the press slowly, peel immediately and allow the garment/product to cool.