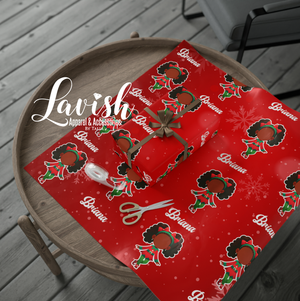 Personalized Black Girl Elf Christmas Wrapping Papers
Elevate your gift-giving with our versatile wrapping paper, now available in three convenient sizes: 30" × 36", 30" × 72", and 30" × 180". Choose between a sleek matte or a dazzling glossy finish, both showcasing high-definition prints for a stunning presentation. Each roll arrives neatly packaged, ensuring a seamless and stylish wrapping experience.

NB! White space at top and bottom edges with a bar and QR code.